Tips From A Traveling Dad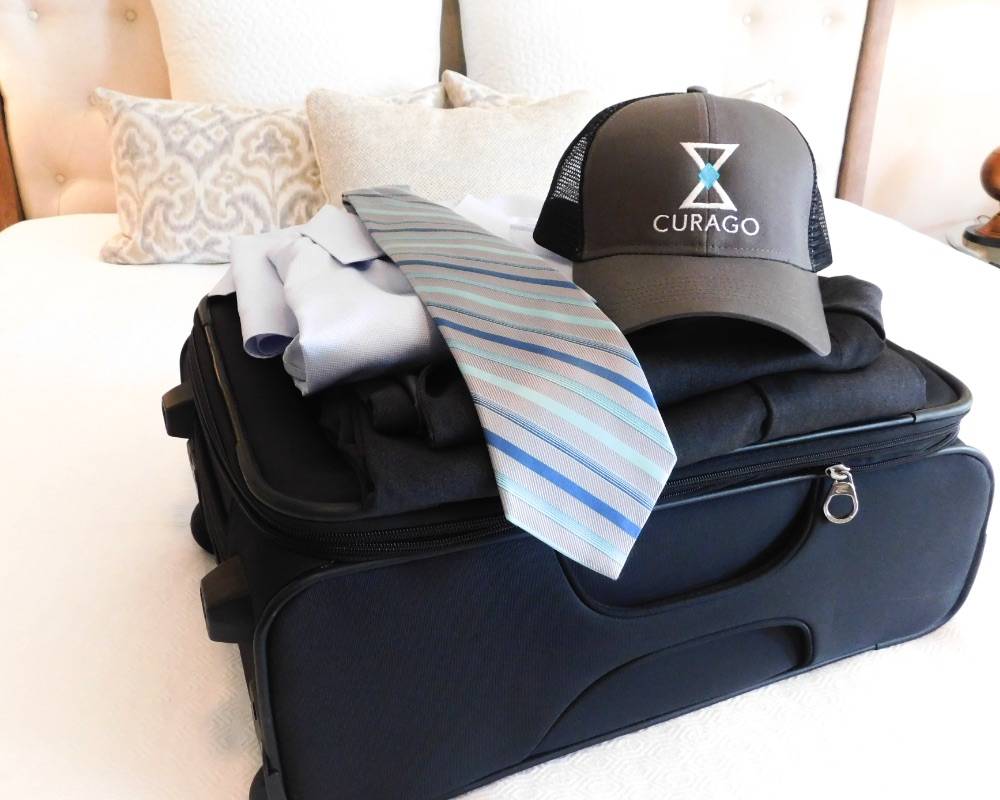 As a father to three young children, I can attest that 'Dad Life' is fantastic. In no other circle of life will you be hero to all, possessing superhuman strength and a seemingly infinite knowledge of everything. There is truly no greater joy in life, than when you hear your children say, "Dad, I love you."
Dad Life presents many challenges as well. We are constantly working to try and balance work life with family life, ensuring that we don't miss the precious family moments that we don't get back. As a father who travels extensively for work, this issue is a major pain point for me as I struggle to continually stay up-to-date on events that my kiddos and family have. Throughout my career, I have lived and died by my business calendar for information on my flights, hotels, meetings, car rentals, time off, and on and on. In the past, I have tried to finagle and merge a personal digital calendar with my work calendar, only to realize that my wife and children had no visibility to my schedule. They constantly had to ask when I was leaving and when I would return. On Sundays, I would watch my wife meticulously comb through her calendar, documents, flyers, etc. and transcribe everything she could find onto a dry erase board calendar.

Sound familiar?

Enter CURAGO…my new secret weapon for staying in the know. With a shared Family Calendar and shared Grocery and To-Do lists, our family has been in total sync. No more asking each other, "When is that?" or "When will you be home?" We simply pull out our phones, open the CURAGO App, and can quickly and easily see what is on the agenda for each individual in the family.

Here are the top 5 ways we use the Shared Family Calendar App to ensure we are all on the same page:

1. CURAGO is a true Shareable Calendar:
Not only can our family see schedules for the whole family, with the ability to filter views by specific individual, we can invite others outside the family to events too. Grandma and Grandpa want to make it to a basketball game? We easily send them an invite to the event through CURAGO. Need to let the baby sitter know that a kiddo gets out of an after-school activity late? You guessed it, we send an invite.

2. Shared Grocery and To-Do Lists:

Can I say life saver here?!!! I mean, I can't tell you how many times I have schlepped to the store with a paper list in hand, only to realize when I got home we had missed an item, or the kids had mentioned something they needed in passing that didn't make it on our list. No more! If someone needs a particular item, we simply pull out the CURAGO App, add it to the shared Grocery List, and voila! The list updates in real-time, so even when I am in the store and someone adds an item, I see it immediately.

3. Attach Images and CURAGO Lists to Events:

Paper, paper, paper… we get mountains of paper flyers and reminders from school, the kids sports teams, PTA, doctor's offices, and on and on it goes. There may be a good method for keeping and maintaining all that information in paper form, but I must admit we haven't found it yet. It sure would be nice to have all that information available to view from anywhere… Wait, can you do that with CURAGO? You betcha, and it gets even better. You can attach images of these documents to the corresponding Event in CURAGO; GENIOUS! No more, "Where is that document?" or searching through a kitchen countertop or refrigerator cluttered up with current and outdated paper information, it's all at your fingertips at a moment's notice. I almost forgot to mention that you can even attach a specific CURAGO List to an event, so everyone who is invited has access and visibility. This comes in handy when we invite friends over for a little shindig and have a list of items for guests to bring.

4. Comment in an Event:

I will be the first to admit, sometimes I forget where I saw a communication regarding events. Was that email? Which email account? No, wait was that a text message string? The hunt is on. With CURAGO, the problem is solved. Users can comment directly in a specific event eliminating the unnecessary search for a communication related to some event. My wife can remind me to grab a water for our youngest before soccer practice, leave specific bedtime instructions for the babysitter on date night, or insert a Pinterest recipe link for quick reference for an upcoming party event.

5. Easy to Use:

Technology is a great thing, but if it is too complex and difficult to navigate your kids won't use it. OK, maybe I should rephrase that as in today's age usually it's the kids that are showing parents and grandparents how to use a new app or device. CURAGO hits it out of the park in this area for our family. Our kids range in age and we have a couple that can access CURAGO on their own to add to the Grocery List, look at their schedule, and stay up-to-date on all the family activities. For our youngest kiddo, CURAGO allows users to setup a Junior account. He has his own schedule and events, however all of it is managed by Mom and Dad. We have even created Junior accounts for our family dogs, and can log when they have grooming or vet appointments.

Dad Life is a fun, challenging, scary, rewarding, joyous adventure that is all too short lived. Now when I schedule work travel, I know exactly where to go so that I don't miss out on any of it. CURAGO has helped to ensure that I stay that mythical superhero figure for my kiddos, and what could be more important than that? I Better wrap this up, just got a CURAGO notification that it's family movie night and I need to make a popcorn run!

---